Powerstar, the market leading energy storage and voltage optimisation brand has been shortlisted in the Energy Awards 2016, Innovation of the Year – Technology: Internet and Control category, for the innovative Virtue energy storage system.
Virtue is an integrated energy management and micro-grid solution with smart grid control. The solution is forming an integral part in the future development of Smart Cities, enabling energy generated from sources such as wind, solar and fuel to be stored locally and ultimately more efficiently.
The technology allows users to store energy and access it when required, providing an average 24% reduction in electricity bills, by negating costly DUoS and Triad charges. Further benefits include full UPS capabilities and additional revenues provided from National Grid incentives such as Demand Side Balancing Reserve (DSBR), Firm Frequency Response (FFR) and Enhanced Frequency Response (EFR).
Virtue also gives flexibility for businesses and electricity grid operators, enabling the evolution from the traditional model of electricity provision to a future smart system of integrated supply and consumption, resulting in lower energy costs, greater security of supply and transition to a low carbon economy.
The award shortlist marks the latest in a long line of successes for the Virtue system after its launch in early 2015, showcasing the solution's potential in assisting to shape the future energy landscape as the UK strives for a more secure, reliable and green energy supply.
The winners of the Energy Awards 2016 will be announced on the 20th November, at an event held in the Hilton on Park Lane, London.
Dr. Alex Mardapittas, managing director for Powerstar commented, "With the UK Government recently announcing the need for a smart energy revolution it is vital that enabling technologies like Virtue energy storage solutions, are implemented to replace the traditional model of large thermal power stations, in order to create an 'Internet of Energy'.
"By using a more highly connective system of responsive power generation from both suppliers and consumers Virtue will assist in providing a clean, secure and reliable electricity supply to the homes, businesses and vehicles of tomorrow."
Late in 2016 Powerstar will be adding Virtue EV (electric vehicle) to the product range, which will see the company's energy storage technology integrated with an electrical vehicle rapid charging unit.
To register an interest in the solution and to receive further information on events and activities in relation to the product launch visit, http://powerstar.com/virtue-ev-coming-soon/.
For more information on Virtue, please visit http://powerstar.com/virtue/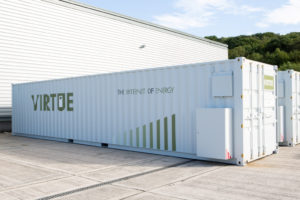 You can view all the shortlisted category nominee's here: https://www.theenergyawards.com/shortlist-2016